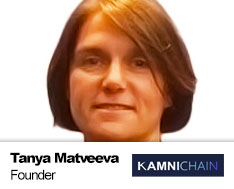 Tanya Matveeva /
Kamni Chain
Tanya Matveeva is a geologist by vocation with over 25 years of experience. She's worked all over the globe, and focused primarily on exploration and data management. Since learning about blockchain technology Tanya realized its potential for the mining industry and is working on solving mining industry challenges using blockchain-based solutions.

Tanya started her career as a keen young geologist with BHP Exploration , roaming the mosquito-infested forests in Northern Russia exploring for nickel, and snow-covered steppes of Kazakhstan, in search for gold and IOCG deposits in Australia. She then spent 11 years in Canada, working on diamond and gold exploration in Nunavut, base metals
in British Columbia with APEX Geoscience, and uranium, coal and shale gas with Alberta Geological Survey.
Seeking new adventures, Tanya moved to the Netherlands, and started working in Africa, evaluating opportunities for rutile in Cameron, tin in Rwanda, bauxite in Guinea and iron ore in Tasmania. After move to the UK Tanya worked with Behre Dolbear Minerals Industry Advisors till 2019 and is now running independent consultancy out of  Canterbury, Kent, UK.