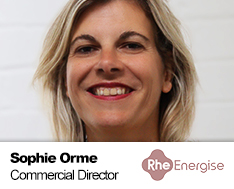 Sophie Orme /
RheEnergise
Sophie Orme – Commercial Director – RheEnergise
Sustainability and energy advisor; speaker and influencer. Innovator, green dot connector, stubborn optimist.
Over 16 years clean tech experience from start up through to high growth stage, covering solar, wind, energy storage, sustainability for #NetZero transition.
Authentic, value driven leader, with director level experience across a range of disciplines. Common thread of developing pioneering solutions to support energy transition.
Insightful and clear communicator. Speaker and panelist, passionate about strengthening climate education in schools. live by regenerative and circular economy principles