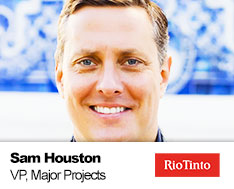 Sam Houston is a talented, qualified and experienced executive leader with a dedication to enabling individuals, teams and organisations to reach their full potential in a psychologically safe, completely supportive and constructively positive space.
An accomplished and deeply experienced change leader in operational engineering, construction and mining environments, Sam relishes propelling organisations to success by focusing on transforming commercial underperformance to profit, rationalising dysfunctional structures, and galvanising stakeholders and high-performance teams to stretch levels of accomplishment. He has a strong technical background in engineering and project delivery as well as a functional background in leadership, strategy, business change, sustainability, digitalisation and diversity and inclusion.
Industry Experience
Sam is an Engineering and Capital Projects Executive and expert with experience in delivering resilient growth strategies, project, program and portfolio management, PMO development, strategic planning, facilitation and coordination, performance management and business development. Sam turns around underperformance of growth strategies, evaluates potential acquisitions and provides engineering and delivery oversight and guidance. Sam resuscitates the performance of red-lining growth strategies resulting in significant improvement in portfolio cost/schedule performance metrics and boosting investment returns.
His most notable positions include:
Vice President Major Projects, Iron Ore Company of Canada, Rio Tinto, Canada, 2022–present
Founder, Strategist Solutions, UK and Portugal, 2021–present
Vice President Engineering & Capital Projects/Company Officer, Eldorado Gold, Canada, 2020–2021
Programme Director/Principal Consultant, Jacobs, UK, 2014–2020
Head of Project Services – Potash Major Projects, BHP Billiton, Canada, 2012–2014
Project Controls Manager – Global Major Projects Iron Ore/Coal, ArcelorMittal Mining Ltd, UK, 2011–2012
Sam has a Master of Science in Business and Strategic Leadership from Cranfield University UK and a Bachelor of Mechanical Engineering from Central Queensland University in Australia. He is progressing his Executive Coaching certification and prioritises development of himself and others. Happily married and a true global citizen, he enjoys different cultures, food, a range of sports and the arts, including visiting museums and galleries, the theatre and live music festivals.