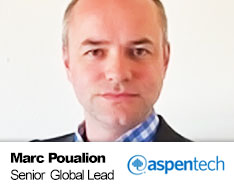 Marc Poualion /
AspenTech
Marc-Poualion, Senior-Global-Industry-Lead, Metals & Mining, Aspen Technology. For the last ten years Marc has been in software Product Management in the Mining industry for companies such as Dassault Systemes GEOVIA, ABB and most recently Hexagon AB Mining Division.
In his capacity as Product Manager and Portfolio Manager for these organizations, Marc was a part of, and oversaw Product Management and R&D teams that defined and developed market leading solutions for various parts of the mining value chain including Geological Modelling and Ore body knowledge, Mine Planning and Design, Scheduling and Logistics, Optimization, Grade Control, Drill and Blast and Material Movement Operations across more than 30 products, several of which were flagship revenue generators.

Marc is Australian and studied in Brisbane, Australia at the University of Queensland School of Earth Sciences where his classical undergraduate education majored in Geosciences. He later studied at the University of Queensland Business School where he obtained his post-graduate qualifications in management and executive leadership. Marc's field experience as a Geologist includes projects in energy resources such as coal and conventional oil as well as base and precious metals in exploration and extractive environments.